Downloads for Sale for VirtueMart
Downloadable products (both free and paid downloads) and downloads linked with purchased products for VirtueMart 2 and 3.
Virtuemart plugin to sell downloadable files, or provide downloads linked with a bought product (e.g. drivers). The downloads can either be free for all (no registration, no payment), only for registered users of your site, or only after a product has been paid. For paid downloads, once the order has been confirmed, the download link will appear both on the product page and in the invoice / order confirmation (its appearance is configurable). An example: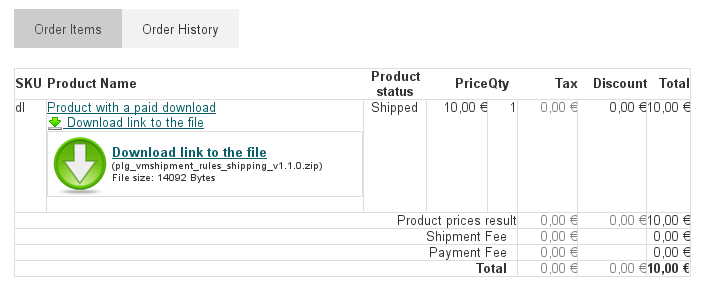 In contrast to other downloads plugins for VirtueMart, this plugin tries to be as simple and straightforward as possible: Once a user bought a product, access to the download is granted, without any (time or download count) limits.
What this plugin tries to do:
Allow free downloads (attached to VirtueMart products) for everyone
Allow free downloads (attached to VirtueMart products) only for registered (and logged-in) users
Sell downloadable files in VirtueMart, with no download restictions attached (a buyer will have unrestricted access after purchase, i.e. no time limit or by number of downloads)
The direct download link will be displayed on the product's page as well as in the invoice (configurable)
Download of paid downloads requires the ordernumber and order password (given in the link)
Common misconceptions:
The plugin can only serve static, local files that were uploaded through VirtueMart´s media manager. It can NOT make files available for download that are located on a different server or files that are different for each customer.
What this plugin does NOT do:
Give access to downloads only for a limited period of time, or for a limited number of downloads
Keep track of who downloads a file
Give streaming access to movie or audio files
If you want or need any of these features, please use one of the other available download plugins for VirtueMart: Shipment for Virtual Products, Spiral Paid Download Plugin for VirtueMart, OpenGlobal VirtueMart Downloadable Products, DigiToll Downloads
License
This plugin is licenced unter the GNU GPLv3. The "Downloads for Sale Plugin" can only be downloaded after payment and you will get all the rights (and duties) that the GPL gives you. You are allowed to use the plugin on as many webshops as you like. We try to give support as our time allows, but we cannot guarantee a certain response time. A payment also gives you access to all future version of the plugin with no time restriction.